History
History of St. John Presbyterian Church, Tampa Florida
1909 – 1935
St. John Presbyterian Church was founded in West Tampa in 1957 as an extension of the Ybor City Presbyterian Mission Church, which had been established in 1909. From 1909 – 1935, five pastors led Ybor City Presbyterian Mission: Reverend. P.H. Hensley, Reverend. E.W. Someillan, Reverend. Eladio Hernandez, Reverend H.Y. Beatty, and Reverend Francisco Boan.
1935 – 1970
Then, in April 1935, Dr. and Mrs. Walter B. Passiglia, with their daughter Mary, arrived in Tampa, Florida to assume the leadership of the primarily Cuban, Italian and Spanish congregation. Dr. Passiglia began an 'evangelical visitation campaign' to encourage new membership. The church community thrived: membership grew to over 400; Mrs. Passiglia led what soon became a celebrated choir; and five young people from The Mission were inspired to go into full-time Christian work.
After so many years of service in the Ybor community, there was a need for an extension in the West Tampa area and the present site of four acres was purchased. Ground breaking ceremonies were held on January 13, 1957. Church services began on April 7, 1957 in the St. John parking lot. On July 21st the first service was held in the sanctuary. The facilities were joyfully dedicated on September 22, 1957, and were crowded to overflowing, with many friends rejoicing with us in the great venture for Christ.
Dr. Passiglia retired on June 30, 1970, after thirty-five years of dynamic ministry in both the St. John Presbyterian Church and The Ybor City Mission Church.
1970 – 1987
On September 1, 1970, Reverend James N. Holmes began his pastorate at St. John and The Mission. He and the congregation began to look at the church as a vehicle for fulfilling God's purpose in the world.
Several groups were formed to encourage fellowship among church workers: Craft Circle consisted of weekly craft classes for senior citizens; Cooking Circle prepared dinners for disabled persons; Family Club offered dinner and Bible study one night a month; Spanish Circle provided Bible lessons in Spanish; and Social Circle met once a month for prayer, lunch and fellowship.
Reverend Holmes and the congregation realized a number of community service missions over the years, including: the Judeo-Christian Free Health Clinic, the McClain Group Home for people with intellectual disabilities, a memorial society to help mitigate the exorbitant cost of funerals, Weekend Wagon, which delivered meals to the elderly, and an alcohol treatment center. In 1981, in recognition of the church's work, the 122st General Assembly awarded St. John Presbyterian Church the Ecumenical Service Award. Reverend Holmes retired as pastor in June 1987.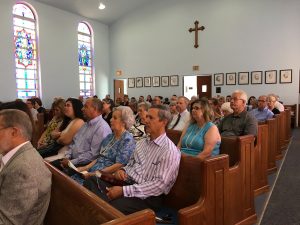 1987 – 2001
Four pastors served the church between 1987 – 2001: Reverend Roger Greenslade, Reverend Heidi Varderman, Reverend Sam Harris and Reverend Christopher T. Brushwood.
Following the recommendation of Mr. John Diaz, in late 1993, the Session approved the establishment of a day care and early learning center that would offer scholarships to children whose families could not pay for high-quality pre-school.
In early 1998, the Session gave approval to become a "Host Site" for the Share Program. This is a nationwide program offering food valued at $30 to $40 for $14 and two hours of community service. We began our operation in March of 1998. We no longer participate in this program.
2001 – 2010

In 2001, Dr. Earl J. Smith began serving as Designated Pastor of the church and also of the John Calvin Presbyterian Church. He was installed as the Designated Pastor of both churches on February 18, 2001.
Our Current Pastor

We are very fortunate at St. John Presbyterian Church to be led by Pastor Ramiro Ros, a warm and caring Pastor who is genuinely interested in shepherding our congregation into a closer union with Jesus Christ. Read a short bio of Pastor Ramiro Ros here.